Mljet Tourist Board takes the green route for cyclists with new feature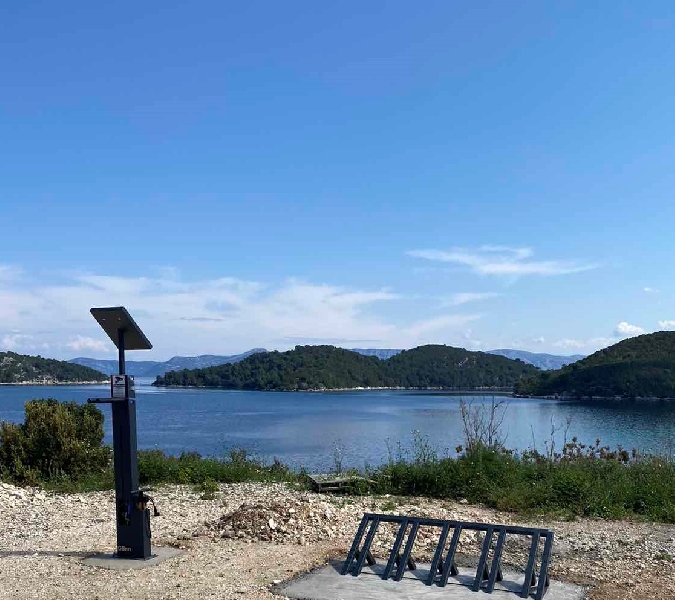 The development of cycling tourism has created the need for a simple and practical type of urban equipment intended for cyclists, and Mljet has gone that extra step to make sure that cyclists have an easier ride.
Service poles with tools for repairing bicycles and scooters and a tire pump have been installed in the Sobra ferry port and on the D120 section of the road near the Polače turn. A move that is sure to be welcomed by cyclists, and a positive and eco-friendly move by the Mljet Tourist Board.
All cyclists who find themselves on Mljet can look after their tyres with the help of solar energy, use the tools from poles for minor repairs, tyre changes and the like, and recharge their mobile phones along the way, all in an eco-friendly way.
The pillar is self-sustaining. It is powered by solar energy, and the built-in LED lighting from a 2.6-meter-high pole also creates a night street lamp, so bicycle repairs are also possible at night. The materials used are high quality stainless steel and aluminium, and require almost no maintenance and are ideal for cycling routes through nature.
This activity is funded by the project Maritime and Multimodal Sustainable Passenger Transport Solutions and Services - MIMOSA - Program INTERREG HR-IT 2014 - 2020, in which the Dubrovnik-Neretva County is a project partner.