Walking & Hiking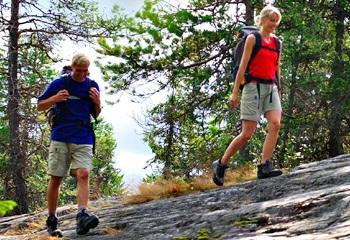 MLJET HIKING TRAIL

Opened on April 28 2012.
This pass is dedicated to all mountain lovers, especially the mountain youth who recognizes the value of staying in the countryside.
We are sure that all who come to Mljet will enjoy the magical views of the Mljet`s Velebit,the Peljesac peninsula, the sun that dawns from Snježnica near Dubrovnik, into the sea behind the mysterious island of Lastovo.
The beauty of nature and the endless hills and endless blue sea make Mljet unique place on the Adriatic coast.

Mljet hiking trail (MPO) is 43 kilometers long and can last for 3-4 days (23 hours).
The entire route is marked ,hiking signs and seals are fitted to the control points.
We suggest you to take and have the ink pad for marks.
On the way there are 20 control points.
Four daily stages of MPO:

1) POMENA - GOVEĐARI 5h
2) GOVEĐARI - BLATO 7h
3) BLATO - ROGOVIĆI - BABINO POLJE 6h
4) BABINO POLJE - VELIKI GRAD - SOBRA 6h